San Francisco, California, USA | 3 - 6 September 2002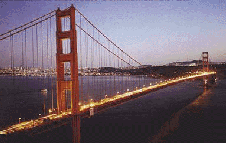 Quality Week 2002 (QW 2002) is run by Software Research Institute (SR/Institute), a non-profit subsidiary of Software Research, Inc. Organizations which have agreed to be sponsors of QW2002 are given below, as well other organizations that have helped organize and present the event.

IN COOPERATION WITH...
The American Society for Quality is a membership organization dedicated to promoting the principles and practices of quality improvement, with a mission to "be recognized throughout the world as the leading authority on, and champion for, quality." The ASQ Software Division, which represents over 5000 professionals worldwide, is dedicated to "improve the ability of individuals and organizations to satisfy their customers with quality software products and services through education, communication, research, outreach, and professional development. (http://www.asq.org)
World Organization of Webmasters &nbsp&nbsp Description to be supplies.

ORGANIZERS...
Software Research Institute (SR/Institute), a not-for-profit subsidiary of Software Research, Inc., was founded to promote the issues of Software Quality throughout the software development community. In addition to the Quality Week Conference series SR/Institute sponsors continuing education seminars in the general area of software quality and software engineering, and Software Quality Forums at which software quality industry leaders provide state of the art technology transfer to industry executives about how to best apply current technology to immediate software quality needs.
MEDIA SPONSORS...
SD Times is filled with authoritative reporting written specifically for software development managers. It covers the entire industry to keep you informed and up to date on Java, Linux, XML, embedded wireless, components, e-business and much more! We cover the things the technical monthlies rarely touch: the trade shows, the vendor roadmaps, the trends, the tools, the alliances, the people, the NEWS! Subscribe today. SD Times is free to qualified professionals like yourself. BUT you must sign up now!

Software Business is The Magazine for Software Executives! Every issue of Software Business Magazine includes the following editorial features: . CEO Strategies . Electronic Distribution . ASP Reports . Financial Reports . Business Automation . Software Replication . Product Development . Packaging/Fulfillment . Support/Customer Service . International Opportunities . And More...!