Brussels, Belgium | 11 March - 15 March 2002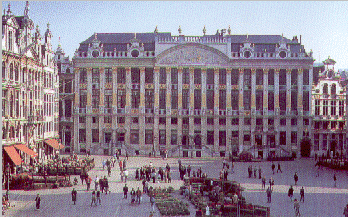 QWE2002, the 19th in the continuing series of Quality Week Conferences, is the 5th International Internet & Software Quality Week Europe Conference. QWE2002 focuses on advances in software test technology, reliability assessment, software quality processes, quality control, risk management, software safety and reliability, and test automation as it applies to client-server applications and WebSites.
QWE2002 papers are reviewed and selected by a distinguished International Advisory Board made up of Industry and Academic Experts from Europe and the United States. The Conference is produced by Software Research Institute.
The mission of the QWE2002 Conference is to increase awareness of the entire spectrum of methods used to achieve internet & software quality. QWE2002 provides technical education, in addition to opportunities for practical experience exchange within the software development, QA and testing community.
ABOUT QWE2002's THEME: Internet Now!
The wave of change in software brought about by the Internet affects how we approach our work, and how we think about quality of software and its main appplications in E-commerce. But it also affects how we view conventional software as well. QWE2002 aims to tackle internet related issues head on, with special presentations dealing with technology shifts that aftect the software quality community.
QWE2002 OFFERS...
The QWE2002 program consists of five days of tutorials, panels, technical papers and workshops that focus on software quality, test automation and new internet technology. QWE2002 provides the Software Testing and Web QA community with:

Real-World Experience from Leading Industry, Academic and Government Technologists.
State-of-the-art Information on Software Quality & Web Quality Methods.
Quality Assurance and Test Involvement in the Development Process.
E-commerce Reliability / Assurance.
Case Studies, Lessons Learned and Success Stories.
Latests Trends and Tools.
Two Days of carefully chosen half-day and full-day Tutorials from Internationally Recognized Experts.
Three-Day Conference with: Technology, Internet, Process, Applications and Vendor Technical Presentations.
Two-Day Vendor Exhibitions and Demonstrations of the latest Tools.
Five Parallel Tracks with over 50 Presentations.

We are soliciting 45 and 90 minute presentations, or participation in panel discussions on any area of testing and automation, including:

E-Commerce Reliability
Object Oriented Testing
Test Management
Application of Formal Methods
Outsourcing
Automated Inspection Methods
Process Improvement
Software Reliability Studies
Productivity and Quality Issues
Client / Server Testing
Real-Time Software
CMM/PMM Process Assessment
Test Automation Technology
Test Data Generation
WebSite Monitoring
WebSite Testing
Test Documentation Standards
Cost / Schedule Estimation
Defect Tracking / Monitoring
GUI Test Technology
Risk Management
Test Planning Methods
Integrated Test Environments
Test Policies and Standards
Quality of Service (QoS)
New/Novel Test Methods
WebSite Load Generation
WebSite Quality Issues
IMPORTANT DATES:
| | |
| --- | --- |
| Abstracts and Proposals Due | 30 June 2001 |
| Notification of Participation | 15 August 2001 |
| Camera Ready Materials Due | 21 January 2002 |
SUBMISSION INFORMATION:
There are two steps to submitting material for use in QWE2002:

Prepare your QWE2002 Abstract as an ASCII file, a Microsoft Word document, or in PostScript or PDF format. Abstracts should be 1-2 pages long, with enough detail to give members of QWE2001's International Advisory Board an understanding of the final paper/presentation, including a rough outline of its contents.

Send it by Email (as a MIME attachment) to: qw@soft.com.

Please include in the Email:

A brief biographical sketch of each author.
A photo of each author.
The complete coordinates of the primary author.

Fill out the Speaker Data Sheet giving some essential facts about you and about your proposed presentation.
If you prefer, you may send material by postal mail to:

Ms. Rita Bral
Software Research Institute
1663 Mission Street, Suite 400
San Francisco, CA 94103 USA
Best Paper Award: Receive recognition in the QA Community and a cash prize of $1,000.
Best Presentation Award: You will be invited to present your talk at Quality Week 2002 (QW2002) in San Franscisco, California.
For information on the QWE2002 Conference, e-mail your request to qw@soft.com, phone SR/Institute at [+1] (415) 861-2800, or FAX SR/Institute at [+1] (415) 861-9801.
Candidate product/service vendors should contact the QWE2002 team early as exhibit space is strictly limited.