Brussels, Belgium | 11 March - 15 March 2002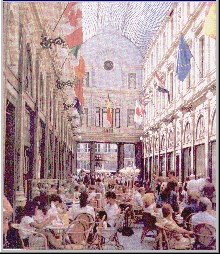 Quality Week/Europe 2002 (QWE2002) is run by Software Research Institute (SR/Institute), a not-for-profit subsidiary of Software Research, Inc. Organizations which have agreed to be sponsors of the QWE2002 event are given below.
The QWE2002 event is organized and presented in cooperation with certain other organizations, whose support is also acknowledged below. Note: Additional sponsors and cooperating organizations are expected to be added.

Industry Sponsors: Gold
ABOUT CMG Information Technology...

CMG plc (www.cmg.com) is a leading European IT services company, providing business information solutions through consultancy, systems and services to clients worldwide. Established in 1964, CMG now operates in more than 40 countries from its bases in the UK, The Netherlands, Germany, France and Belgium. The company is listed on the London and Amsterdam stock exchanges. CMG supplies services and products in the finance, trade and industry, transport, telecommunications, energy and public sectors. The Group also provides managed information processing services, including networks, payroll and personnel. One of CMG's many specialisations is the automation of structured testing. CMG has developed a very successful testing method TestFrame (www.TestFrame.com). CMG is dedicated to helping its clients and their people become more successful through the quality of its services and staff. Strong employee commitment ensures the Group's long term success and hence the success of its clients.
ABOUT SR/TestWorks...

Software Research, Inc. (SR) offers eValid - The Internet Authority- offers products and services to enhance the success of your e-business, by assuring that your WebSite is trouble-free, reliable, speedy and available 24x7. In a webpaced world, your WebSite is one of your key assets. eValid will change the way you think about assuring WebSite Quality . eValid is a test Enabled Web Browser(TM) that performs all the functions needed for detailed WebSite static and dynamic Testing, QA/Validation, page tuning and load generation. eValid has superior ease of use and runs on Windows 98/NT/2000. ( http://www.e-valid.com)
ABOUT Gitek nv...

Gitek nv was founded in 1986 in Antwerp, Belgium. Gitek is, in addition to the design and development of software, specialised in software testing. Gitek employs 40 professional software test engineers. Its customers include the pharmaceutical industry, the financial industry, the telecom industry and insurance companies. Employees of Gitek regularly speak at testing conferences in Belgium and Europe. Gitek is a partner of IQUIP Informatica B.V. and in Belgium exclusive distributor of TMap and TPI.
ABOUT Spherion technology Architects...

Spherion, delivers a full range of ICT services. We specialize in the areas of business consultancy, project management, software development, testing, technical and functional management, and training. Besides offering these competencies separately, we often combine them within large-scale and complex ICT projects. Since our focus is always set on business needs, this combination ensures the best solution for our customers. Spherion constantly develops high-quality, in-depth knowledge and experience in specific platforms, tools and methodologies. (http://www.spherion.nl/technology/)
ABOUT Veritest...

VeriTest, VeriTest is the premium provider of testing services that enable technology companies to release proven enterprise-scale applications on a worldwide basis. With datacenter-equipped labs in North America and Europe, VeriTest delivers test consulting, test plan development, and test execution services through cost-effective, global processes. VeriTest is a service of Lionbridge Technologies, Inc.(http://www.veritest.com)
Industry Sponsors: Silver
ABOUT Computer Associates...

Computer Associates International, Inc. (NYSE: CA) delivers the software that manages eBusiness. CA's world-class solutions address all aspects of eBusiness process management, information management, and infrastructure management in six focus areas: enterprise management, security, storage, eBusiness transformation and integration, portal and knowledge management, and predictive analysis and visualization. Founded in 1976, CA serves organizations in more than 100 countries, including 99 percent of the Fortune 500 companies. For more information, please visit ca.com
ABOUT ps_testware...

To offer the best solution to quality problems of computer systems by using its test expert knowledge in a professional way.

Best solution: the solution that provides the highest contribution.
Computer systems: hardware as well as software under all forms, such as IT, automation, embedded systems, etc.
Test expert knowledge: the intellectual asset of ps_testware, a profound and complete knowledge regarding verification and validation (testing).
Professional: the courage to really provide what has been promised.

Don't hesitate and visit our website: http://www.pstestware.com
Industry Sponsors: Bronze
ABOUT Sitraka...

Sitraka, Inc.A proven leader in J2EE Performance Assurance, Sitraka delivers advanced diagnostic solutions that help companies to pinpoint and eliminate performance hazards in mission-critical J2EE applications. Offering a system-wide view of performance, Sitraka PerformaSure is a transaction-centric diagnosis tool that enables e-business performance teams to measure, analyze and maximize performance of multi-tiered J2EE applications during load testing and before costly problems occur in production. Visit Sitraka on the Web at: http://www.sitraka.com.