Brussels, Belgium | 11 March - 15 March 2002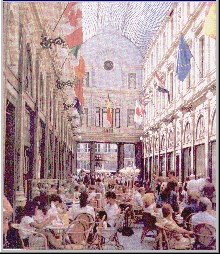 Quality Week/Europe 2002 (QWE2002) is run by Software Research Institute (SR/Institute), a not-for-profit subsidiary of Software Research, Inc. Organizations which have agreed to be sponsors of the QWE2002 event are given below.
The QWE2002 event is organized and presented in cooperation with certain other organizations, whose support is also acknowledged below. Note: Additional sponsors and cooperating organizations are expected to be added.

In Cooperation with the following organizations:
Centre for Software Engineering (CSE), Ireland
Data Teknisk Forum (DTF), Denmark
The European Software Institute (ESI), Spain
The German Informatics society (GI), Germany
Oesterreichische Computer Gesellschaft (OCG)-Austrian Computer Society, Austria
SAST, Sweden
SOFT-ED, Finland
Studiecentrum voor Automatische Informatieverwerking (SAI), Belgium
TestNet, Holland
The Technologisch Instituut, Belgium
ABOUT CSE...

The Centre for Software Engineering (CSE) in Dublin-Ireland is a leading technology support centre in Europe for the industrialisation of software. The CSE provides advanced skills training, consultancy and evaluation services to software intensive organisations, typically in the ICT industry sectors. A comprehensive range of services addresses Software Process Improvement, Component Based Development, Engineering High Quality Products, and Project Management and People Issues. http://www.cse.dcu.ie
ABOUT Software Technology Forum...

The Software Technology Forum is a professional network, which consists of about 75 Danish companies. The forum organises ten experience exchange groups in areas like software quality, testing, metrics, object oriented methods, broadband communication, multimedia technology and software process improvement (the Danish SPIN-group). http://www.datatekniskforum.dk
ABOUT ESI...

The European Software Institute is one of the world's leading independent authorities on software process improvement. ESI is a non-profit-making organisation driven by the demands of European industry. It is supported by the European Commission, the Basque Government and through company membership. ESI's work is centred on products and services that are tied directly to core business objectives such as reducing costs and increasing predictability of results among others. ESI's headquarters are in Bilbao, Spain.
( http://www.esi.es)
ABOUT GI...

The German Informatics society (GI) is the association of about 21,000 men and women who, by their work, take part in the progress of informatics or who are interested in the development of informatics. The work of the GI ist mostly done in a decentralized way in divisions, expert committees, special interest groups, working groups, regional groups, advisory councils and in user groups. ( http://www.gi-ev.de)
ABOUT OCG...

The objective of OCG is the comprehensive and interdisciplinary promotion of information processing, with due regard to its effects on people and society, including technical as well as educational and legal aspects. In fulfilling this objective, the Society performs five primary functions: serves as an umbrella organization; represents Austria in IFIP, CEPIS, IMIA and ERCIM; provides members with services, information and consultation; promotes research and development projects; and it is an affiliate member of ACM (Association of Computing Machinery) and of the IEEE Computer Society. ( http://www.ocg.at)
ABOUT SAST...

SAST is a non-profit and independent organization open for all persons interested in software testing in Sweden. There are several goals for SAST: First of all to create a way for members to exchange experiences and knowledge related to testing. Secondly, to increase the status of testing by spreading information and knowledge about software testing. Also, creating a network among testers is important, both within Sweden and abroad. SAST was formed in 1995 by an initiativ from Anna Eriksson and Sigrid Eldh. Today, 6 years later, SAST has approximately 800 members and continues to grow, but the vision is the same - to increase the knowledge about Software Testing. ( http://www.sast.net/)
ABOUT Soft-ED Ltd...

Soft-ED Ltd
Description to be supplied. ( http://www.soft-ed.net/)
ABOUT SAI...

SAI (Studiecentrum voor Automatische Informatieverwerking) is a non-profit organization whose purpose is to promote the knowledge of Information. As far as the theoretical as practical aspects of information knowledge, the organization takes a stand on social questions that has to do with automation of information as far as it applies. The activities of the organization are focused on people who are specialists in information. SAI organizes discussions, meetings, seminars, workshops and a magazine called "Informatie". ( http://www.sai.be/)
ABOUT TESTNET...

The aim of TestNet is the professionalization of testing IT products, and an increase in the awareness and importance of testing as a profession in its own right. TestNet stimulates the exchange of professional knowledge and practical experience amongst testers, and stimulates research, from a scientific standpoint as well as from a practical perspective. (http://www.testnet.org)
ABOUT TI...

The Technologisch Instituut is active in all professional fields where technology and science play a central part. These include a wide range of activities, ranging from civil engineering, infrastructure, process technology, electrical engineering, telecommunications, computer technology, food and agricultural technology, the study of materials to general technologies such as management techniques, energy, safety and environmental technology (34 different sections). (http://www.ti.kviv.be)